Guidelines Rulers - Designed to Cut Fabric Fast, Accurate and Fatigue Free
Guidelines Rulers - Designed to Cut Fabric Fast, Accurate and Fatigue Free
Get 15% off your entire order or get a Free Grip Strips!
Sign up for our newsletters here,
and you'll get 2 promo codes.
Choose a code and use it at checkout to:
Option 1: Get 15% off your entire purchase
Option 2: Get a Free Pack of Grip Strips ($9.95 value) with your Order Over $40.

Click on the links below to learn more.
6"x12" Guidelines Ruler
Includes built-in Grip Strips, Fabric Guide and Angle Line Marker.
2-Guidelines Ruler Set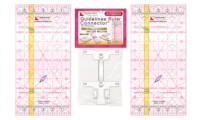 Choose this set if you want to connect rulers and cut longer or wider pieces.
3-Guidelines Ruler Set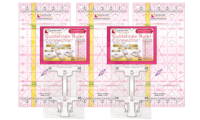 Choose this set if you already have 1 or 2 Guidelines Rulers
Guidelines Ruler Connector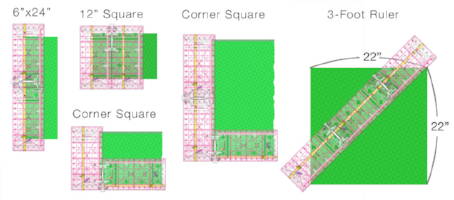 Eileen Kukich
El Paso, TX
"I cut over 1,200 6"x3" rectangles for 5 lap quilts.
I was able to do this in about a week with no waste of my material.
I am so pleased with this Ruler."
Judy Miller
Eagle River, AK
"I cut out over 200 2½" squares today using your ruler. It took me 2 hours.
If I had done it with a regular ruler, I'd still have some to cut tomorrow."
Libby Wheeler
Ontario, Canada
"...Using the two rulers made it easy to cut 7 ½" squares, divide them into 2 ½" strips, and then turn them into nine-patch blocks in a matter of minutes. I was amazed..."
Mary-Ruth
San Antonio, TX
"I am traveling across country. I already use the 24" package and just love it. It and my 1/4" paper piecing ruler are just about the only ones I use. I have replaced almost all my rulers with yours..."
Sew Accurately with the Prep-Tool after cutting accurately with Guidelines Rulers:
The Prep-Tool lets you:
Sew accurate scant 1/4" seam allowances.

Take the guesswork out of set in seams.

Pre-trim triangling points accurately.

Mark precise seam lines for sharp mitered binding corners.
Sewing accurate scant 1/4" seam allowances is the secret to sharp pointy points in blocks like these.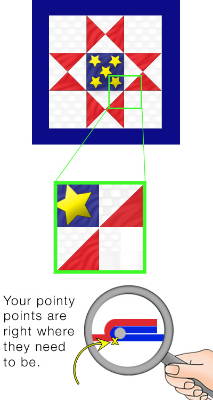 Cut & Sew Accurately and Make Blocks Any Size No Math. No Expensive Dies:
Finished-Size Quilting Sets
Every set includes:
Guidelines Rulers and the Prep-Tool to cut

and sew accurately.
Seam Allowance Additions to make blocks any size, accurately, No Math!
Grip Strips work better than anything you've ever tried before because all the pressure gets concentrated along the edges of the Ruler.
Self-adhesive Grip Strips are available separately, so you can slip-proof all your other rulers and templates.
Crystal clear Grip Strips come built-in on both long edges of the Guidelines Ruler.
Grip Strips slide easily over your fabric, so you can make little adjustments with ease, but just a little pressure in the middle locks the Ruler in place when cutting.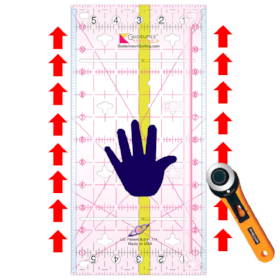 Built-in Grip Strips are the same thickness as the Fabric Guides, so everything will be level when cutting.
Guidelines Rulers come with a
new one-piece Slide & Snap Fabric Guide.
The Fabric Guide is made of durable ABS: the same material used to make those colorful, kid-proof, snap together blocks.
Snap the Guide onto the measurement line you want
for faster and more accurate cutting.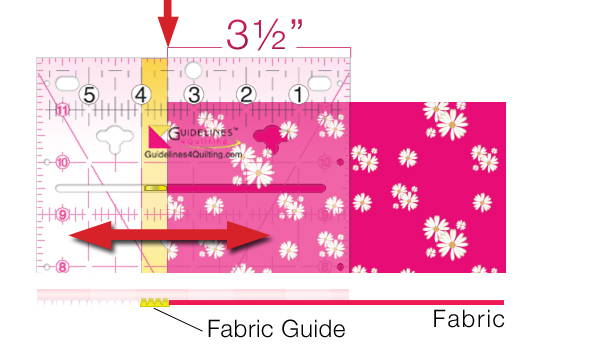 ---
To snap the Guide onto the measurement line you want:
Press down on the Extensions above the slots in the Ruler to un-snap it. Slide the Guide to the measurement line you want and push up from underneath until it snaps back in place.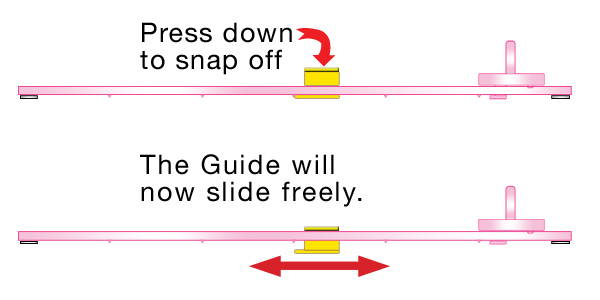 Grooves in the Fabric Guides are designed to lock onto the raised measurement lines underneath the Ruler, so the Fabric Guide's edge always ends up at the dead center of the line, ensuring consistently accurate cutting.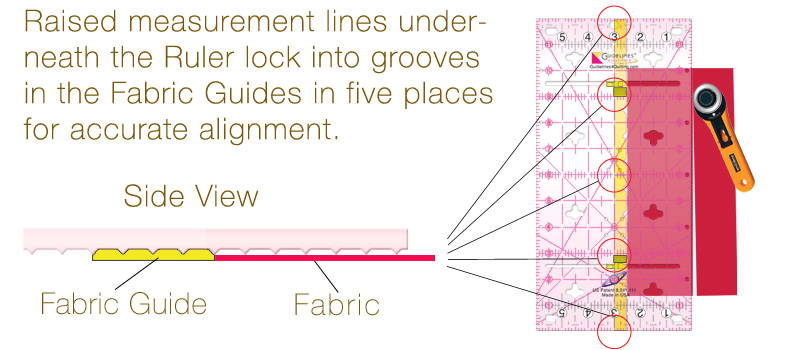 The latest version of the Guidelines Ruler was released on
May 1, 2018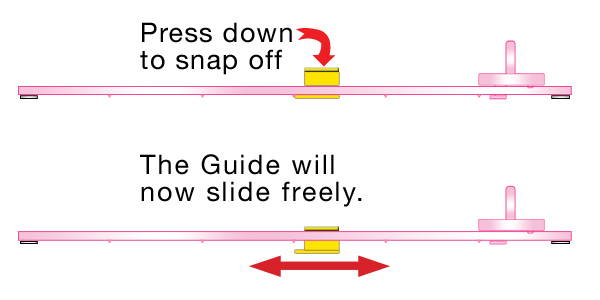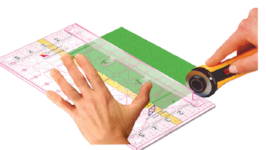 Came with
Two-Piece Fabric Guides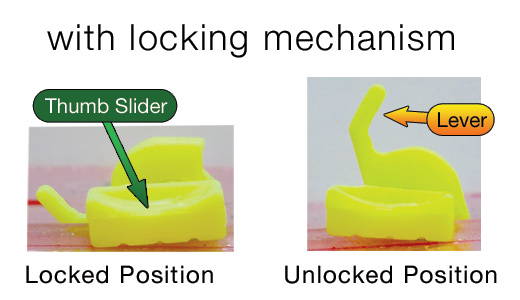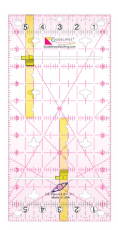 Everything else is the same:
Fabric Guide locks into grooves underneath the Ruler
Non-Slip with built-in Grip Strips
Made of Polycarbonate, Unbreakable & Un-nickable
Connectable with the Guidelines Ruler Connector
Comes with an Angle Line Marker to mark angle lines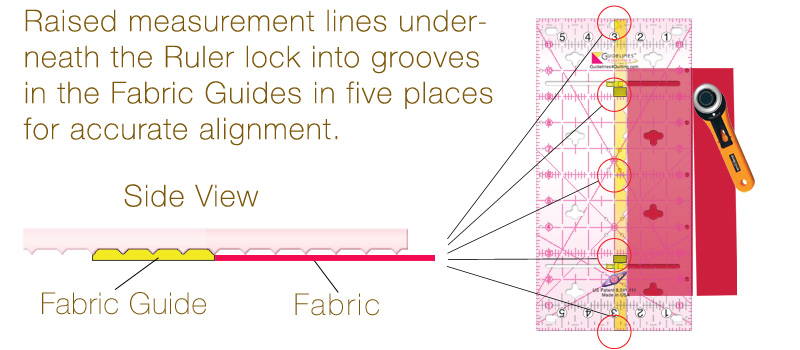 The previous versiion of the Ruler itself (the main body slightly tinted in pink) is absolutely identical with the new version. So, you can purchase the new version and connect it with the previous version, using the Guidelines Ruler Connector.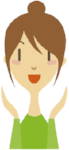 The Fabric Guides are Interchangeable:
Want to try the new, one-piece "Slide & Snap Fabric Guide" on your existing previous version of Guidelines Ruler?
Simply remove the two-piece Fabric Guides from the previous version as in the instruction on the right.
Then, press the extensions on the new, one-piece "Fabric Guide" into the slots from underneath the Ruler.
Buy a new one-piece Guide below:
See how to remove the two-piece Fabric Guides:
Remove the bottom Fabric Guide the same way.