Testimonials and Reviews - Grip Strips
Testimonials and Reviews - Grip Strips
Donna Thompson - Merritt Island - FL
The Grip Strips are THE BEST! They make cutting accurate regardless of the fabric, slippery or not; they hold just where you place and press down lightly on your ruler yet will slide across the fabric to move on to the next cut without picking up the ruler. What a great help they are for rapid cutting. I have fallen in love with these grip strips.
Sheila Kester's post on Quiltingboard.com
Make your ruler no-slip
"I am about to bust with joy at the new item I found! This is a strip that you add to your ruler to make it no-slip. I can't believe how good it works. Even on my 6 x 24 ruler. ...It is called Grip Strips and boy does it ever work good!!
... There is no more walking your hand as you cut!
I am telling all the ladies that I quilt with. I showed it to a lady that works at the store where we all meet and quilt and she was immediatly impressed. I even talked to a complete stranger about them...
Oh, by the way, they are clear so they don't hinder your reading of the ruler and they peel right off if you need to move them. Boy, did I ever get wound up, but I am just so impressed I had to share..."
Jane Carhart / Morris, IL
"Your Grip Strips are amazing. I saw your ad, ordered a pack, tried them one time and ordered more. I have Grip Stripped every ruler I own.
I worked in a fabric store and have tried every product I could fine to keep my rulers from slipping. Nothing worked until I found Grip Strips! I have told friends they had to get some – and they love them.
Then my husband needed to hand cut some vinyl for a decal business we own, so I gave him my ruler with Grip Strips. He was amazed. He discovered the ruler worked on the truck he was lettering. I think he is going to try and steal my rulers!
I will be ordering Grip Strips for his rulers soon. These truly are the best thing that has happened to the quilting world in years."
Cynthia Hoisington - NC
"I ordered your Grip Strips before Christmas and they are wonderful! I've tried every available product to keep my 24" ruler from slipping out of place and .....at last...something that works. I sure appreciate some smart person's ingenuity."
Linda Roetman / Zimmerma - MN
"I had ordered a set of these Grip Strips a few months ago. I love them!...There's nothing more frustrating than having the ruler move or shift when you are cutting fabric! It's a wonderful invention.
I have used the little sandpaper circles or the clear plastic circles, but haven't been pleased with them.
So, this order is another order for myself and for my three quilting friends who want to have them for their rulers. I know they will love them as I do. I put them on my 24-inch ruler and my 14-inch ruler. I have some other rulers I want to put the strips on, and will probably order more in the future.
You have many other products that I want to take a look at and see what else I can use. Your web site is really great..."
Terry Chase - Winter Springs, FL
"Grip strips...help on ALL rulers, and are a godsend on square rulers where precision is everything. ... Also, since they raise the ruler slightly, you can
easily work them over bulky seams that need to be cut..."
Betty Curran - Siletz, OR
"...just a note on your Grip Strips. At last you have given us a tool that honest to goodness works to keep our rulers from slipping. I was a little bit dubious when I ordered one but as you can see I ordered 4 of them today. It is more than worthwhile. One of them is going to my daughter but the Mama gets the other 3. Thanks so very much and I should've known they would work because I have your rulers and I am swinging on a star now. I had an auto accident a couple of years ago and it left me with only one leg. It has been very difficult to cut a piece of fabric But NO More. Can't thank you enough."
Marie White - Auckland, New Zealand
"When visiting Houston Intl Quilt Festival in November, I purchased some of the Grip Strips and they are everything you state they are.. Absolutely awesome to have rulers that don't wander when cutting. Great product!"
Peggy Villanueva - Newport News, VA
"The Grip Strips have changed my quilting life! Don't know how I did without them. Am working on doing all my rulers with them. Thank you so much."
---
Quilts Made Using Tools by Guidelines4Quilting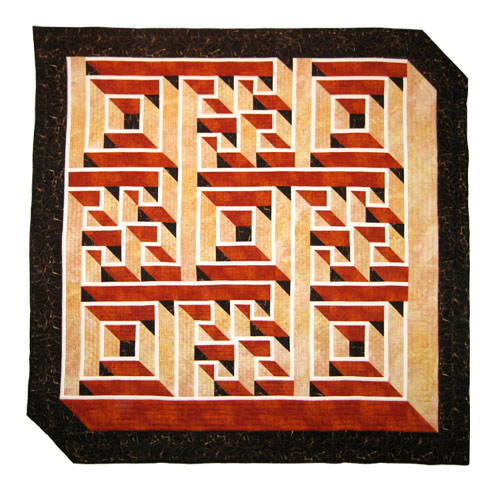 Bonnie Beaty - CA Road to California Contest Entrant
"It was such a wonderful experience for me to take the leap and enter this quilt at Road. I am fairly new to quilting and to have my quilt accepted was quite an honor. This quilt truly stretched my quilting abilities and improved my confidence greatly.
I used a few of the tools offered by Guidelines4Quilting. I used the Guideline Rulers to cut the strips. I really like the ability of butting the ruler up to the fabric and knowing that it is straight and square.
I used the Prep-Tool to prepare the triangles. The Prep-Tool really does make for more accuracy when sewing triangles together and I needed accuracy on the triangle units of this quilt. Triangles have always been a bit of a challenge for me, so having tools that make it easier and actually work is great.
I tell everyone about Guidelines Rulers and at a recent quilt retreat I gave a demo on the Rulers, Prep-Tool and Grip Strips. I have the Grip Strips on almost all my rulers and just ordered another two packages for the rest of them. Thanks for the great products."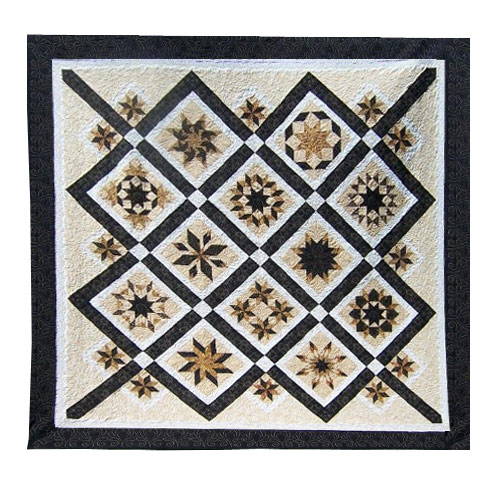 This beautiful Lemoyne Star quilt was made by Sharon Vervoort of California and it was accepted into Road to California. It's the first quilt she had ever entered in a contest and it took third place.
She says one of her secrets to win this award was using the Prep-Tool to mark the seam intersections for the precise Set-in-Seams on the Lemoyne stars. Congrats, Sharon!