Grip Strips - The Best Non-Slip Solution to Stop Your Quilt Rulers and Templates from Slipping
Grip Strips - The Best Non-Slip Solution to Stop Your Quilt Rulers and Templates from Slipping
This is why Grip Strips work better than
anything you've ever tried before.
Betty Curran
Siletz, OR
"At last you have given us a tool that honest to goodness works to keep our rulers from slipping. I was a little bit dubious when I ordered one but as you can see I ordered 4 of them today. It is more than worthwhile."
Sheila Kester
Clearwater, KS
"I am about to bust with joy at the new item I found! ... I can't believe how good it works. Even on my 6" x 24" ruler...they are clear so they don't hinder your reading of the ruler and they peel right off if you need to move them. "
Terry Chase
Winter Springs, FL
"Grip strips are terrific. They help on ALL rulers, and are a godsend on square rulers where precision is everything. ... Also, since they raise the ruler slightly, you can easily work them over bulky seams that need to be cut."
Scroll down for product information.
Six 11¾" Long Crystal Clear Strips

¼" Wide and 1/16" Thick

slide easily over your fabric when lining up, but just a little pressure will lock your ruler in place while cutting.

Self Adhesive on Brown Backing Paper, Just Peel and Stick

Repositionable, Removable Adhesive that Leaves No Sticky Residue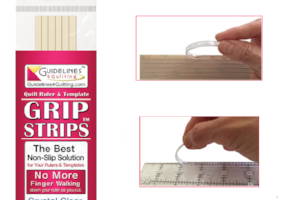 What If I Use Quilt Ruler Seam Allowance Additions
or the Plus 2.5" Add-On on My Rulers?