Testimonials and Reviews - Guidelines Rulers
Testimonials and Reviews - Guidelines Rulers
Anna Branch - Ontario, Canada
"...I really like this ruler for cutting smaller blocks - 2.5 or 5". It is a real time saver and I get more accurate cuts with less slippage. The customer service is great..."
Eileen Kukich - El Paso, TX
"I cut over 1,200 6"x3" rectangles for 5 lap quilts. I was able to do this in about a week with no waste of my material. I am so pleased with this Ruler. I also have Grip Strips on all of my regular rulers."
Susan Melanson - NC
"I am a person who cannot draw a straight line with a ruler. I am equally inept when cutting fabric. ...
So let me tell you what I think of your product; IT IS WONDERFUL! ... I set the rulers for the size strip I wanted, and to my amazement, the ruler did not slip and the strips were perfect. I am left-handed and this product easily worked for me. .."
Patricia - Berwick, Australia (her first comments)
"My friend, Judy of Endeavour Hills, Australia ordered your kit and she demonstrated it to me. I love it and have just ordered from your very well set up site. Love the little animations. Your product is marvelous! Wish I had known about it ages ago."
Patricia - Berwick, Australia (her second comments)
"Hello again,
I have received my Guidelines Kit and am thrilled with the accuracy I can achieve with these wonderful rulers. And I save so much time in my fabric cutting, so can get onto the sewing very quickly. I also love the Prep-Tool that allows me to trim triangles, what a great idea. It makes lining up the triangles much more accurate. And now I see that you have seam guides for the sewing machine – I wish I had noticed them when I placed my order. I will just have to do another order! Thank you for your excellent service – my order arrived in Australia just a week after I placed my order."
Kelly Jones - Montgomery, AL
"I love your ruler and attachments for the 1/2, 1/4 square cuts! Last June I was in an auto accident where I de-gloved my left hand....this made it almost impossible to use a rotary blade and ruler to cut...ONLY your system has made this possible again for me.
Thank you SO much for your products!!!!!!!!"
Stephanie - Hockley, TX
"I bought your ruler at the International Quilt Festival in Houston two years ago, and I use it all the time. I just wanted you to know how much I love my ruler and that I just took it to class with me, and everyone fell in love with it. Thanks for making my job easier."
Cristy Adamski - WI (her first comments)
"Thank you for the ruler. I just finished a quilt top. I tried it out and I have to say . . . W-O-W!!! I will NEVER use another ruler again!!!! This is amazing! I absolutely love it. My cuts are much more accurate as the ruler doesn't slip at all and I can cut out pieces so much faster with the marker in place. This is the coolest invention ever. I can't believe I waited so long to try it. What was I thinking!"
Cristy Adamski - WI (her second comments)
"I made a quilt for my nephew for his graduation present this year. I used your new ruler and love it. I literally got the entire quilt top done in 2 days!!! Makes things go amazingly fast."
Cecile Lewis - Minneapolis, MN:
"...Last night I spent a considerable amount of time on your website really reading through the instructions. The information I needed was all there. Well presented, easy to understand and thorough. Thank you.
 
I am now using your (now mine) ruler and I am really pleased! Matter of fact, your ruler is so stable and easy to read, I have almost dispensed with the fabric guides (smile).
There is a very large and diverse family of different brands and styles of acrylic rulers on the wall of my design room. The money I would have saved had your product existed when I began quilting would buy a whole lot of cloth! I am using your ruler right now to cut a large assortment of strips for a scrap quilt and the wonderful thing I can report is LACK OF FATIGUE!  
The ruler really does not slide at all. Very little pressure is needed to keep it in place. Also, it really is easier for me to read. Lack of strain on my left (rulerholding) hand and shoulder, coupled with the fact that my eyes aren't worn out trying to see the numbers and tick marks is what I hoped this ruler would do for me. Wow! Those benefits are enough for me to feel that my $$ were well spent!  
 
Thank you for a well designed product. I hope you do well in the marketplace."
Judy Miller - Eagle River, AK
"I cut out over 200 2½" squares today using your ruler. It took me 2 hours. If I had done it with a regular ruler, I'd still have some to cut tomorrow. This is the first time I have used the ruler and I am amazed."
Jackie, the Whimsicals Mom - Lafayette, IN
" I really love the ruler! It does not slip at all. I have tried numerous brands of rulers, with varying degrees of success as far as slipping goes. I have hand problems, and this ruler makes a big difference in fatigue....no more "finger walking" down the ruler and straightening the edge of the fabric. Your web site is great also..simple to visit and informative. Thanks for a great product!"
Wanda - Hemet, CA
"A friend of mine asked me to help her cut some strips for a class we were taking and there were quite a few to be cut. She had an AccuCut® and it took me quit a while. I was really tired by the time I got home, but decided to cut mine out with my new Guidelines ruler. It took me only half the time to cut the same strips for the class and it didn't tire me out nearly as much. I have since used my Guidelines4Quilting's system several times and I just love it. Great work!"
Leni - Santa Ana, CA
"I have to say I love your ruler. I teach sewing at All Brands, Moores and Sew Vac and I will be showing it. It is the best!!!!!!"
Barbara - Millbrook, NY
"I absolutely love the Guidelines ruler and have told every quilter I know about it. I plan to ask Santa for the Prep Tool, Seam Allowance Attachments and any other goodie I hear about between now and Christmas."
Margaret -Scotland
"Last night, I cut the strips for binding my quilt and the ruler worked wonderfully - no slipping! "
Libby Wheeler - Ontario, Canada (her first comments)
"I have to tell you how pleased I am with my new rulers, which I received this week after ordering online. I was surprised to receive them so quickly after ordering.
I can't believe how simple they made the cutting process. Using the two rulers made it easy to cut 8" squares, divide them into 2 ½" strips, and then turn them into nine-patch blocks in a matter of minutes. I was amazed.
Since I love to use up scraps, these new rulers will make the process of cutting small pieces a breeze. Thank you for providing this wonderful quilting tool"
Libby Wheeler - Ontario, Canada (her second comments)
"This is the second time I have written to comment on how much I enjoy your self-aligning rulers. For the past few days, I have been cutting small scraps into squares. I set each guide differently, thus I had four measurements: 1 1/2", 2", 2 1/2" and 3". It was so easy just to measure the scrap for the largest possible square, and then cut--with no slipping!. I now have hundreds of squares ready for scrap quilts. Thank you again for creating these rulers! "
Mary-Ruth - San Antonio, TX
"I am traveling across country. I already use the 24" package and just love it. It and my 1/4" paper piecing ruler are just about the only ones I use. I have replaced almost all my rulers with yours. Thanks, Mary-Ruth"
Maria Hrabovsky / Maria Michaels Designs - Ontario, Canada:
"The more I use your ruler the more I love it. There's no way I'd want to be without it now and I still look forward to the day you make it in other sizes as well.
Yesterday I had to cut out a lot of HSTs for a baby quilt commission and the quickness, ease of use, and accuracy of the Guidelines ruler is sheer pleasure, besides which I had them all cut out and ready to sew in a fraction of the time I would spend with any other ruler!"
---
Quilts Made Using Tools by Guidelines4Quilting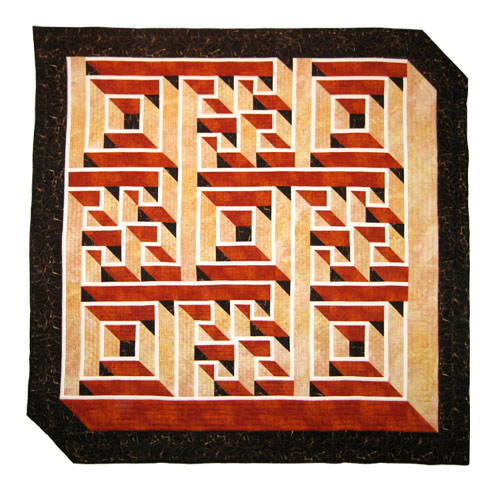 Bonnie Beaty - CA Road to California Contest Entrant
"It was such a wonderful experience for me to take the leap and enter this quilt at Road. I am fairly new to quilting and to have my quilt accepted was quite an honor. This quilt truly stretched my quilting abilities and improved my confidence greatly.
I used a few of the tools offered by Guidelines4Quilting. I used the Guideline Rulers to cut the strips. I really like the ability of butting the ruler up to the fabric and knowing that it is straight and square.
I used the Prep-Tool to prepare the triangles. The Prep-Tool really does make for more accuracy when sewing triangles together and I needed accuracy on the triangle units of this quilt. Triangles have always been a bit of a challenge for me, so having tools that make it easier and actually work is great.
I tell everyone about Guidelines Rulers and at a recent quilt retreat I gave a demo on the Rulers, Prep-Tool and Grip Strips. I have the Grip Strips on almost all my rulers and just ordered another two packages for the rest of them. Thanks for the great products."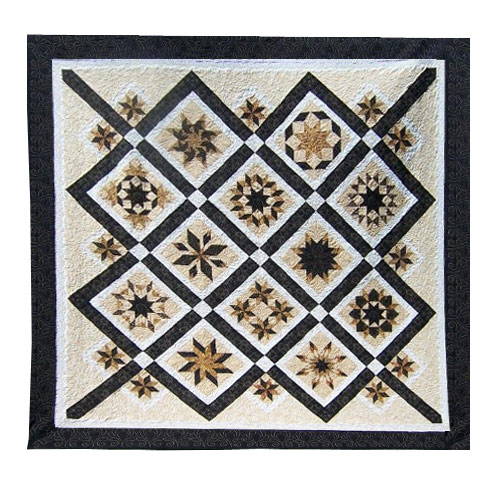 This beautiful Lemoyne Star quilt was made by Sharon Vervoort of California and it was accepted into Road to California. It's the first quilt she had ever entered in a contest and it took third place.
She says one of her secrets to win this award was using the Prep-Tool to mark the seam intersections for the precise Set-in-Seams on the Lemoyne stars. Congrats, Sharon!