Holiday Gift Guide
Holiday Gift Guide
Wow! No More Slipping & No Eyeballing!
Add Grip Strips & Fabric Guides to the 12" & 24" rulers you already have.
Kathy Oster - Lewistown, MT
"I bought your quilt guide set from the new quilt shop here in Lewistown, MT and I've never been happier with a tool! I'm getting on in years(74) and my sight isn't what it was but the guides made cutting my last quilt blocks so much easier!!! Wish I'd had them a lot sooner in my sewing life. Thank you for the best quilting tool I've ever owned!"
Judith Armstrong - Truckee, CA
"I use your guides (Quilt Ruler Upgrade Kit ) almost daily and find they are a lifesaver. Thank you for designing them and making them available."
Leann Ivins Williams via Facebook
"Love your guides you can put on rulers. Most of my rulers had them on them and I don't have to worry about the rulers moving on the fabric."
Square Up & Keep It Square in 2019!
An Accurate Scant 1/4" - What a Perfect Gift!
Perfect4Pattern Set
Square Up, Cut & Sew Accuately!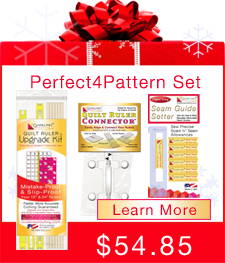 Wow! No More Slipping & No Eyeballing!
Using virtually unbreakable, connectable Guidelines Rulers
with built-in Grip Strips & Fabric Guides.
Eileen Kukich - El Paso, TX
"I cut over 1,200 6"x3" rectangles for 5 lap quilts. I was able to do this in about a week with no waste of my material. I am so pleased with this Ruler. I also have Grip Strips on all of my regular rulers."
Judy Miller - Eagle River, AK
"I cut out over 200 2½" squares today using your ruler. It took me 2 hours. If I had done it with a regular ruler, I'd still have some to cut tomorrow. This is the first time I have used the ruler and I am amazed."